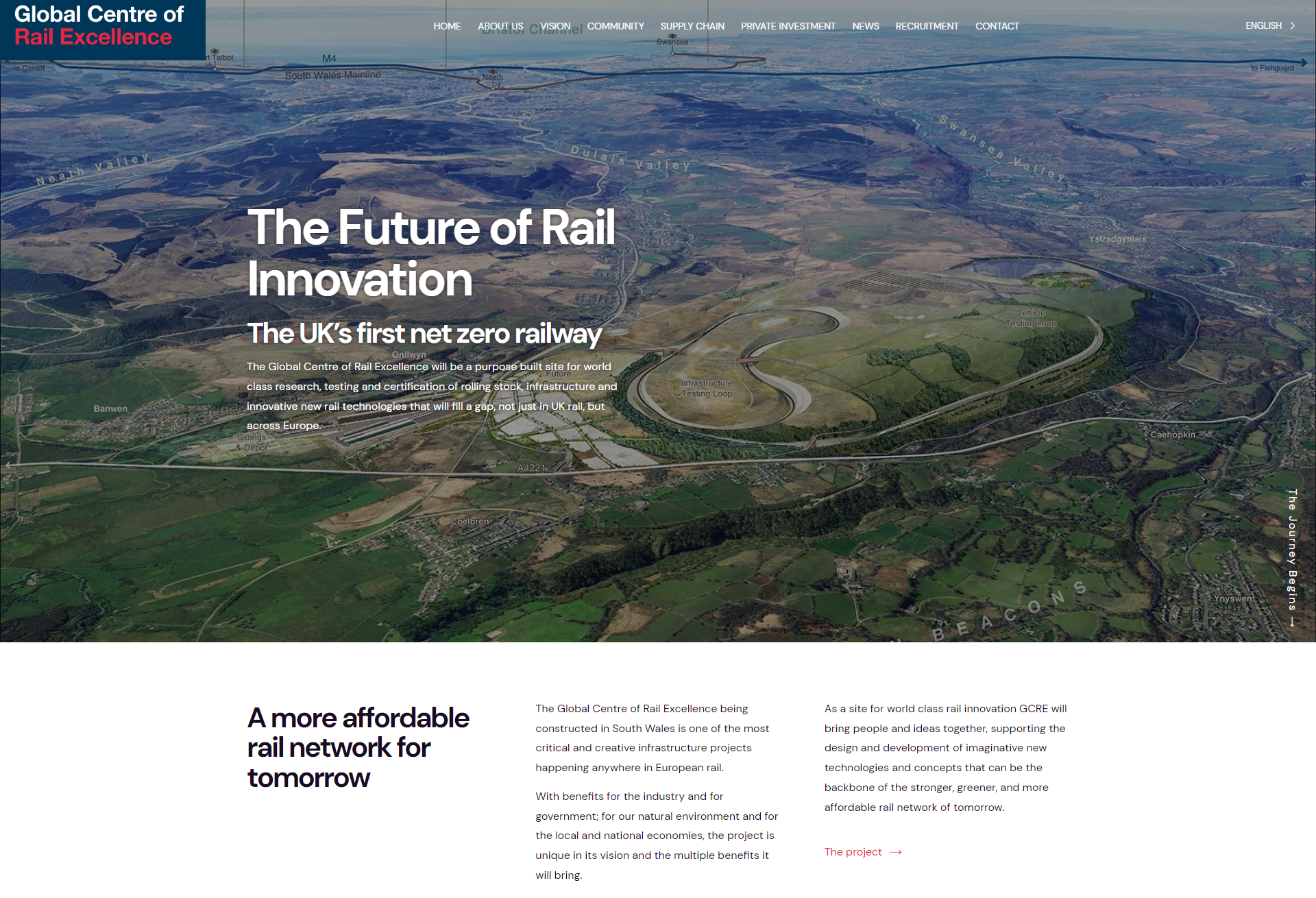 We recently collaborated with The Global Centre of Rail Excellence (GCRE) in the creation of its website and establishing its social media presence. Our involvement began following a 'Meet the Buyer' event that GCRE held in Cardiff, South Wales, back in November 2022.
GCRE is a major infrastructure project that will provide state-of-the-art rolling stock testing, infrastructure testing, storage and maintenance for the UK and international rail industry.
GCRE Ltd. was established in 2021, following a £50 million investment from the Welsh Government, with a further £20m being provided by the UK Government.
Situated on the former Nant Helen opencast site and Onllwyn Washery in Neath Port Talbot and Powys in South Wales, the 700-hectare facility will include two test loops, one being a 6.9km electrified high speed rolling stock track with a maximum speed of 177km/h and the other a 4km 65km/h test track. Other facilities will include a dual-platform test environment, rolling stock storage and maintenance facilities, operations and control offices, staff accommodation, shunting staff facilities and connections to the nearby main line.
There will also be state of the art IP secure testing environments; equipment, systems and communications development facilities. Education, training, visitor and conference facilities are all envisaged in the wider site.
The challenge:
We were tasked with aiding in the development of a new website for GCRE, and to help establish a stronger social media presence. The aim was to provide an informational hub for the project and create digital channels to disseminate this information to build increased awareness of the project and its potential benefits for Wales and the wider Rail Industry. There was also a tight deadline for completion of the website and social media channels – a matter of weeks before Christmas – which meant we had to work swiftly and efficiently.
How we helped:
Outlining a site map for the new website
Advising and aiding with copy for the GCRE website
Creating social media profiles – Twitter, YouTube and LinkedIn - including creating cover and profile pictures and writing bios for each platform
Advising on how best to use the website in a creative and informational way
The outcome:

The GCRE.wales website went live in December 2022 and began its promotion on social media around the same time.
For more updated on the Global Centre for Rail Excellence project, follow and subscribe to its social media profiles below:
Speaking on the project, Grant Nicholas, our Creative and PR Director, said:
"It was fantastic to be involved with the launch of the GCRE website and social media profiles. This innovative major infrastructure project will be incredibly beneficial for the region, and it's very exciting to have played a small part in helping to launch the project's online presence."
Andrew Johnson, Head of Strategic Communications at GCRE, said:
"The Seren Global Media team were fantastic to work with from start to finish. We had a tight timescale for our project - and they delivered. Seren brought expertise, creativity and a good level of constructive challenge to the work and that helped us get a great product at the end."